FINISHED SUBS - CUSTOMER REVIEWS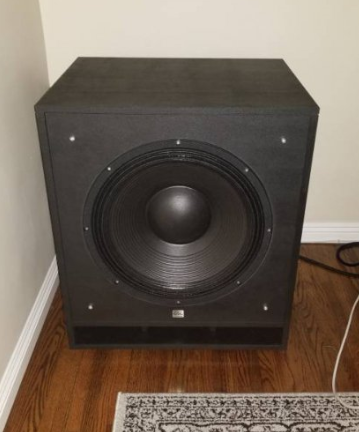 Chris M. picks up the first finished MBM-21
I'll share my quick thoughts on the sub after spending a little time with it. As can be expected, of course the sub has enormous output capability when called upon. And I did test that. I'm absolutely floored that this single 21" in a smallish box for such a driver can clearly outperform my TWO JBL SRX718S subs that were maxed out in power. How do I know this? Everything in my living room and one room over completely shifted around and plenty of things fell (full thick glass of water included) when pushing the sub to around 75% I would estimate.
As far as musicality, this sub is very tight and punchy and blends extremely well with my Klipsch KI-396s without calling attention to itself. I have it crossed at 65 Hz with a 12 dB slope and powered by a bridged Crown K2 amp. It is corner reinforced as I have no other option for placement and this position works exceptionally well for the sub in my room. This is by far the best sub I have ever owned.
Aside from frequency extension on paper, when this sub hits the lows around its tuning frequency, it belts out some serious authority. Regardless of genre of music, or type of bassline, sub stays well composed and doesn't exhibit any behavior so far that I am not pleased with. I honestly have zero negatives to state at this time (and I tried to come up with one, believe me). These have my firm stamp of approval. Hope this helps some of you that may be on the fence. One and done for me, I'm very pleased.